Highways in Georgia
The Georgian public road network has a length of 20,424 km, of which 7,854 km are paved roads. The length of the international roads is 129 km.
Toll roads
There is no road toll in Georgia.
On March 1, 2018, the requirement of compulsory motor vehicle insurance and civil liability for vehicles with foreign registration came into force.
Since Georgia is not one of the countries that have joined the international green card insurance system, it is necessary to purchase a local OSAGO to travel.
Insurance costs depend on the type of vehicle and the length of the insurance period. The minimum duration for which you can conclude an OSAGO contract is 15 days, the maximum duration 1 year. You can sign it at the checkpoint at the Georgia entrance or buy it online MTPL tariffs:
Vehicle type
Cost (GEL)
15 days
30 days
90 days
1 year
motorcycle
20 (5 €)
35 (9 €)
70 (17 €)
215 (53 €)
Car
(total weight up to 3.5 t)
30 (7 €)
50 (€ 12)
90 (22 €)
295 (72 €)
Bus
(over 8 passenger seats)
45 (11 €)
75 (18 €)
140 (34 €)
480 (117 €)
Truck
(total weight over 3.5 t)
60 (15 €)
100 (€ 24)
170 (42 €)
610 (€ 149)
follower
14 (3 €)
25 (6 €)
40 (10 €)
145 (35 €)
The amount of the insurance limit for damage to health, disability and life of each victim is GEL 30,000 (€ 7,335). And for property damage – GEL 25,000 (€ 6,112).
Moving a vehicle with foreign numbers on the territory of Georgia without compulsory insurance will be punished with a fine of 100 GEL (€ 24) for motorcycles and cars. And for buses and trucks – GEL 200 (49 €).
Georgia road map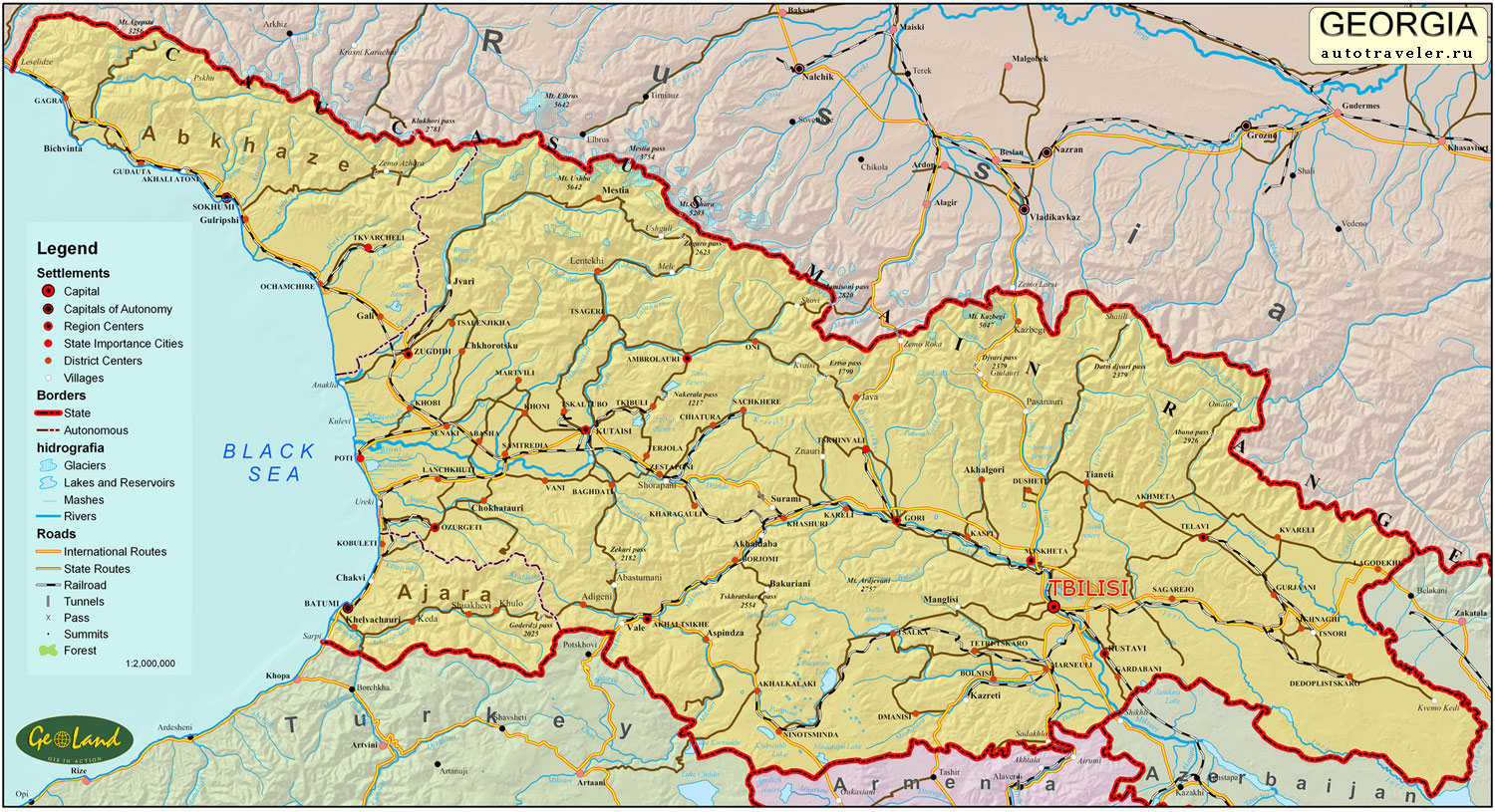 Crossing the Georgian border
To cross the Georgia state line by car, you will need the following documents in addition to your passport:
driver's license
Vehicle registration
In the event that the owner of the vehicle stays at home, you must have a notarized power of attorney in English . It doesn't need to be translated into Georgian.
In Georgien besteht keine Verpflichtung zur obligatorischen Kfz- und Haftpflichtversicherung.
Derzeit können Sie vom russischen Territorium mit dem Auto legal nach Georgien fahren und nur den Kontrollpunkt "Daryali (Kazbegi) – Upper Lars" passieren.
Seit dem 1. Juni 2013 ist der Verkhniy Lars Checkpoint rund um die Uhr in Betrieb .
Diese Entscheidung wurde aufgrund der Tatsache getroffen, dass sich an der Grenze vor allem im Sommer große Warteschlangen angesammelt haben.
Bisher waren die Öffnungszeiten auf das folgende Intervall beschränkt:
vom 1. März bis 1. November – von 6.00 bis 22.00 Uhr
vom 1. November bis 1. März – von 7.00 bis 19.00 Uhr
Before traveling, it makes sense to check the situation at the border, because due to weather events or natural disasters, the passage through the border may be blocked.
Georgia rush hour traffic rules
Speed ​​limit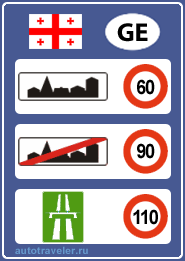 Standard Georgia speed limits (unless otherwise noted on signs). Cars and Motorcycles:
in the village – 60 km / h
outside the village – 90 km / h
on the highway – 110 km / h
Cars with trailers:
in the village – 60 km / h
outside the village – 70 km / h
on the highway – 80 km / h
The maximum speed in residential areas is 20 km / h.
The current maximum speed limits for passenger cars on the roads of European countries
alcohol
The maximum permissible blood alcohol level is 0.3 ‰ .
If the alcohol level in the blood exceeds the permissible norm, the driver will be fined GEL 700 (171 €) or he will be deprived of the right to drive a vehicle for up to 6 months.
If the driver is under the age of 18 at the time of the offense, the duration of the deprivation of the right to drive a vehicle is 1 year.
The transfer of the right to drive a vehicle to a person under the influence of alcohol or drugs is punishable by a fine of 1,000 GEL (€ 244).
If driving while intoxicated damages the building and / or slightly injures a person, as well as attempts to avoid drug or alcohol poisoning testing, the driver will be deprived of driving rights for a period of 3 years.
Acceptable blood alcohol levels while driving in Europe.
dimmed headlights
Abblendlicht ist nachts oder bei schlechten Sichtverhältnissen erforderlich.
Bei schlechten Sichtverhältnissen oder auf engen Straßen mit vielen Kurven können die Nebelscheinwerfer zusammen mit den Fern- oder Abblendlichtern eingeschaltet werden.
Fein – GEL 15 (4 €).
In welchen europäischen Ländern ist die Verwendung von Abblendlichtern tagsüber obligatorisch?
Transport von Kindern
Es ist verboten, Kinder unter 12 Jahren auf dem Vordersitz eines Autos sowie einen Passagier auf einem Moped oder Motorrad zu transportieren ( SDA Artikel 26 Absatz 6 ).
Kinder unter 3 Jahren können nur in einem für ihr Gewicht geeigneten speziellen Kinderrückhaltesystem in einem Fahrzeug transportiert werden.
Es ist gestattet, Kinder unter 3 Jahren in einem Personenkraftwagen auf einem Kindersitz oder auf dem Schoß eines mindestens 16-jährigen Fahrgastes auf dem Rücksitz eines Personenkraftwagens zu befördern. Der angegebene Passagier ist verpflichtet, den Sicherheitsgurt zu benutzen. Ein Passagier kann nur ein Kind auf dem Schoß tragen.
Es ist verboten, Kinder unter 6 Jahren ohne Aufsicht eines Erwachsenen in geparkten Autos zu lassen.
Fein – GEL 40 (10 €).
Anforderungen für die Beförderung von Kindern in leichten Fahrzeugen auf den Straßen europäischer Länder.
Sicherheitsgurte
Die Verwendung von Sicherheitsgurten ist für Beifahrer obligatorisch ( Verkehrsregeln Artikel 21, Abschnitt 9 ).
Passagiere auf den Rücksitzen eines Fahrzeugs müssen keinen Sicherheitsgurt anlegen.
Fein – GEL 40 (10 €).
Das Fahren eines Motorrads oder Mopeds ohne Helm ist eine Geldstrafe von GEL 100 (24 €).
Telefonieren
Es ist verboten, ein Telefonkommunikationsgerät zu verwenden, das nicht mit einem technischen Gerät ausgestattet ist, das Verhandlungen ohne Verwendung von Händen ermöglicht, während das Fahrzeug in Bewegung ist.
Fein – GEL 30 (€ 7).
Geldstrafen für Telefongespräche während der Fahrt in europäischen Ländern.
Tönung
Das Fahren eines Fahrzeugs, dessen Glasgetriebe nicht den technischen Standards entspricht, wird mit einer Geldstrafe von GEL 50 (12 €) bestraft .
Bei wiederholtem Verstoß innerhalb eines Jahres eine Geldstrafe von 100 GEL (24 €).
Im Falle eines dritten Verstoßes innerhalb eines Jahres – Entzug des Rechts, ein Fahrzeug für sechs Monate zu fahren.
Strafen
Die Besatzung des Streifenwagens besteht aus zwei Polizisten. Während der Patrouille muss das Fahrzeug immer ein Leuchtfeuer haben.
Am 1. Juli 2017 wurde in Georgien ein Punktesystem für Verkehrsverstöße eingeführt. Jedes Jahr werden 100 Punkte für jeden Fahrer vergeben, die im Falle eines Verstoßes reduziert werden. Sobald die Punkte auf Null zurückgesetzt werden, wird die Lizenz für 1 Jahr widerrufen.
Diese Regel gilt auch für ausländische Fahrer. Sie erhalten außerdem 100 Punkte für den ersten (in diesem Jahr) Grenzübergang. Wenn der Fahrer auf Null zurückgesetzt wird, darf er nicht in Georgia fahren. Um ihren Führerschein wiederzugewinnen, müssen Inhaber solcher Rechte beim georgischen Innenministerium einen Antrag stellen.
Since July 1, 2017, there have been covert patrols of unidentified vehicles on certain sections of highways, equipped with radar and means for photo and video films. Drivers who violate the traffic rules can view their violations on the Georgian Interior Ministry's website in the video fines section.
In the event of a violation, the local police officer will draw up a report and issue a fine, which must be paid to the bank within 30 days. Table of penalties for traffic violations:
| violation | Fines (GEL) |
| --- | --- |
| Exceeding the speed limit from 15 to 40 km / h | 50 (€ 12) |
| Exceeding the speed limit of 40 km / h | 150 (37 €) |
| Exceeding the permissible speed by more than 40 km / h, which led to the emergence of an emergency | 250 (61 €) |
| Parking violation | 10 (€ 2) |
| Ignoring the signs "Parking is prohibited" and stopping is prohibited " | 20 (5 €) |
| Ignoring the "No Parking" and "No Stopping" signs resulting in an emergency | 200 (49 €) |
| Passage at a red light | 50 (€ 12) |
| Violation of the rules for driving a level crossing | 50 (€ 12) |
| Crossing a solid line when entering a lane for oncoming traffic | 50 (€ 12) |
| Crossing a solid line when entering a lane for oncoming traffic (repeated throughout the year) | 100 (€ 24) |
| Driving a vehicle without a national license plate | 100 (€ 24) |
| Driving in the lane intended for oncoming traffic | 200 (49 €) |
| Transfer of control to someone without a license | 200 (49 €) |
| Leaving the location of a traffic accident by the driver in which he was involved | 250 (61 €) |
| Creating obstacles for traffic or emergency | 250 (61 €) |
| Failure to comply with a lawful request from a police officer to stop a vehicle | 300 (73 €) |
| Driving without a license | 500 (122 €) |
Here is a great place to learn about Georgia traffic rules.
Useful information
petrol
0.71 0.73 0.69 0.37 on May 17, 2021
Unleaded gasoline (92, 95, and 98) and diesel are available in Georgia. There is no such thing as leaded gasoline.
Most petrol stations are in operation around the clock. LPG filling stations are not found at every filling station.
Emergency numbers
European emergency number – 112
Compulsory equipment
Equipment You Must Have in Your Car:
Warning triangle
First aid kit for cars
Fire extinguisher
Requirements for equipment that must be present in the car in various European countries.
Winter equipment
Winter tires
Use of winter tires in Georgia is optional.
spikes
Studded tires are allowed.
Anti-slip chains
Snow chains are required on some sections of the road. The chains should only be attached to the drive wheels.
Requirements for the use of winter and studded tires in different European countries.
In the video below you can see the magnificent views from the road through the Cross Pass.